Květen 31st, 2007 by Jiří Jakl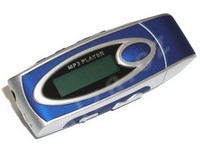 Není to tak dávno, kdy jsem na jedné konferenci referoval o možnosti využití audiodokumentů ve vzdělávání. Tehdy jsem ještě vlastní MP3 přehrávač nevlastnil, s jeho pořízením jsem si ale další perspektivy využití audia ještě lépe uvědomil a i botanika je kupodivu pro audio jako stvořená (kytky spíše vidíme, ev. cítíme, ale také o nich mluvíme).
Diktafonkem se již vybavuje řada botaniků do terénu, neboť poznámky tak lze udělat mnohem rychleji a méně snadno se rozhází. Klasické papírové poznámky mohou blednout, rozmáčet se, o poznámky na paměťovém nosiči ale lze přijít zrovna tak snadno (zejména pokud jsou v jediném souboru na jediném nosiči). Tak jako dojde papír, může dojít baterie či místo v paměti aparátu, o poruše nemluvě. Vlastní aparát s gigovou pamětí, rádiem, přehrávačem a diktafonem lze dnes pořídit za 900,- Kč (viz ten ilustrační), nutno připočítat baterie (1 + 1 náhradní dobíjecí stojí 180,- Kč). WAV soubory z diktafonu mívají velikost 32 až 44 kB/s (zázrak to není, ale stačí to).
Hlavní nevýhodou audia byla jeho velikost. Softwarová komprimace, zlevnění paměti, zvětšení kapacity paměťových disků a nové přenosné přehrávače tento problém ale již prakticky vyřešili. Sluchátka s mikrofonem se stávají běžnou praxí (vinou např. komunikačního programu Skype), nahrávací a editační audiosoftware lze snadno zdarma stáhnout z Internetu, MP3 přehrávače mají funkci diktafonu celkem běžně (posun od nemožného k možnému a nově i docela dobře dostupnému). Zatím existují programy na vytváření audia z textu (dokonce i volně dostupný software pokud jde o angličtinu - např. program TextAloud), s možností převodu audia přímo do textu pak přijdou dost možná o práci mnohé sekretářky.
Pak už stačí poznámky jen diktovat (např. někde se věnujete flóře, fotíte terén a detaily kytek, zároveň diktujete druhy, které vidíte; podobně lze vytvářet audioprotokoly např. o realizovaných hybridizacích…), nebo si lehce "dělat poznámky" z exkurzí nahráváním vedoucího (raději s jeho vědomím, byť principiálně proti "dělání poznámek" s využitím aparátu nic namítat snad ani nelze). Nahrávky lze samozřejmě hned vystavit na web (i zde tak budu činit, podobně fungují již delší dobu Biologické čtvrtky ve Viničné 7) a mít tak jakoby vlastní rádio (s tím rozdílem, že nemusíte poslouchat přímé vysílání, ale dle libosti jen konkrétní záznamy). Pokud jste pro změnu hodně sami v terénu a nemáte se s kým se bavit, pusťte si někoho ze záznamu. Stahovat si prozatím lze alespoň pořady z některých veřejnoprávných rádií, doporučit lze např. pořady Meteor, Natura či Periskop (nebo viz Rádio na přání - příroda).
Audio si lze i předpřipravovat k vlastním vystoupením ("strojová výuka"), která jinak přímo nelze sestříhávat či vylepšovat, ale prostě musíte říci hned vše jak nejlépe umíte (či neumíte). Samotného mne zde napadlo vytváření presentací doplněných audiostopou, vytvořených s pomocí doplňkového freewarového software a mikrofonu (dnes se k tomuto účelu komerčně nabízí např. produkt "Adobe Captivate"). Pokud je výklad záživný, lze vytvářet i samotné audiodokumenty a využít tak právě volného času k poslouchání výkladů o kytkách (kytky půjdou do hlavy samy M-learningovým způsobem :) A další možností jsou audioprůvodci atd.
Též doporučuji:
Jakl J. (2007); Využití audiodokumentů ve vzdělávání; Alternativní metody výuky 2007 - konference (2007-04-26) on-line
Posted in Botanopolitan |